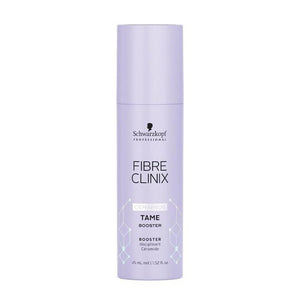 Schwarzkopf Fibre Clinix Tame Booster 45ml
The tame booster has a concentrated formula of ceramides made to be mixed with the Fiber Clinix mask. Designed for unruly hair, it controls and smooths thick, frizzy hair. It tames frizz and improves hair texture.
Regular price
$36.95
$0.00
Unit price
per
---
4X $9.23 AUD
Smoothens thick and frizzy hair!
Details
Maintain coarse frizzy hair with Schwarzkopf Fibre Clinix Tame Booster. Formulated with triple bonding and C21 technology to assist in rebuilding hair bonds and improve hair elasticity and shine. Mix the Tame Booster with Fibre Clinix Tame Shampoo for optimal results.
Features:
For coarse, frizzy and unmanageable hair.
Smooths the hair surface for improved manageability and frizz-free finish
Complete seals hair porosity
Helps intensify the in-salon Fibre Clinix service.
How to use
Mix 2-3 pumps of the booster with the Fiber Clinix mask Leave on for 5 to 10 minutes Rinse thoroughly.
Shipping and returns
RETURNS


Please choose carefully. We do not give refunds if you simply change your mind or make a wrong selection. You can choose between a refund or exchange where goods are faulty and cannot be repaired, wrongly described, different from a sample shown to you or don't do what they are supposed to do.
Please keep your original receipt as proof of purchase. All returns must be in original condition, unopened and unused (unless faulty). Returns must be made within 14 days of delivery, except when an item is faulty and covered by a warranty period.


HOW TO RETURN A FAULTY OR INCORRECT ITEM
Get in touch
To request a return, please email us at customerservice@beautopia.com.au quoting your order number, and attach a photo or short video of the fault.
Please ensure you have emailed us before sending your item back - it makes the process a lot easier.
We'll get back to you
One of our Customer Happiness Coordinators will contact you via email with instructions on how to get your item back to us.
Pack & Send
Pack up your item carefully, so it reaches us safely . You can re-use your Beautopia Hair & Beauty packaging, or a similar sized box if you no longer have it.
Following the instructions emailed to you, print your return shipping label, and tape it to the front of the box.
Drop the parcel off at either an Australia Post Outlet, in a free standing post office box, or in your parcel locker.
Then what happens?
Returns from metro areas usually arrive to us within 7 business days, and can be longer from regional or remote areas. We will process your exchange, refund or store credit within 2 business days of your return arriving back to us.
We'll be in touch as soon as your return is complete. 
It is the customer's responsibility to retrieve any items that Beautopia deem to be in unacceptable condition (unless faulty) or outside of the mentioned timeframe. Beautopia will not pay to return items in unacceptable condition. Beautopia takes no responsibility for lost items when sending returns, so we suggest that you send them via registered post.
Gift cards and promotional codes cannot be returned or exchanged and cannot be applied to exchanges. Once Beautopia receives your returned item and deem it to be in an acceptable condition (unless faulty), we will happily refund or exchange it. 
WARRANTIES & REPAIRS
All warranties are supplied by the manufacturer and not that of Beautopia. These warranties are offered by the manufacturer, who specify the warranty periods and may vary for each product.
Beautopia has no control over manufacturer warranty and repair periods and cannot advise what they will be. Therefore Beautopia has no control as to the time frame. In saying that, Beautopia will do all that it can to ensure that it is handled as quickly as possible, updating you through the process. If the faulty item cannot be repaired, a replacement or refund will be offered.
OUR RETURNS/CONDITION OF SALE
Beautopia has, as a condition of sale, a back to base warranty on all our products, postage is to be paid by customer and once warranty claim is accepted you will receive email updates which will indicate Beautopia will repair or replace the item and post back. If a warranty claim is denied the customer will need to pay costs of repairing the item and the return freight cost. Beautopia will replace any dead on arrival items within 7 days of receiving that item. Warranty will be denied for items that are deemed to have been intentionally damaged or damaged due to misuse or user error. 
ALLERGY RETURN
If you have experienced an allergic reaction to one of our products please get in touch with our customer service team at customerservice@beautopia.com.au and discontinue use of the product immediately.
Your input will help us communicate this issue to the brand and also help us find an appropriate solution for you.
Please include the following information:
Your order number or receipt
The full name of the product that caused an allergic reaction
A details of the symptoms experienced
Photos of the product; and
Photos of the affected area
Please note: Product returns due to allergies must be less than 20% used upon return.
Any other questions?
Please contact our customer service team at customerservice@beautopia.com.au, or by phoning us on (02) 9882 3100 (9am - 4.30pm AEST, Monday to Friday, excluding NSW & national public holidays). You can also contact us via our online chat for further information.